What is Smash Golf?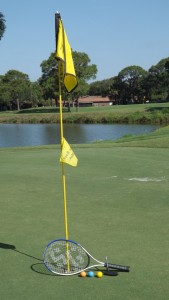 Smash Golf is an exciting new sport that combines golf and tennis. It's played on a regulation golf course using the patented Smash Golf Racquet (part tennis racquet, part golf putter) just like a golf club! You play the golf course just like you play traditional golf. Once you make contact with the ball, you are off and running. The game is easier and faster to play since you only carry one piece of ball striking equipment: the Smash Ball Racquet (TM) and you use a custom designed "Smash Ball". Your swing is similar to golf when hitting the Smash Ball, high to low, or long to short. When you approach the green you use your tennis skills to spin the ball in order to stop it on the green. Whether playing with a foursome, twosome, or by yourself, Smash Golf is challenging and competitive. It's fun, it's fast and it's less expensive than traditional golf!
The Smash Ball will carry up to 130 yards or more based on racquet speed. It has a good feel off the putter head, creating a nice roll on the greens.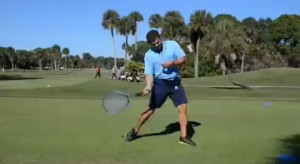 The game can be played on virtually any golf course layout. In Smash Golf, a hole that's 120 yards or less is a par 3, 121 to 200 yards is a par 4, 201 to 350 yards is a par 5, and over 350 is a par 6. Play the forward tees and have fun! There is no need to alter anything on the golf course; holes, flags, or equipment! You can even play along in the same group with traditional golfers if you like!
New Rates
9 Holes Walking w/ racquet rental, 1 ball – $10 + tax
9 Holes Riding w/ racquet rental, 1 ball – $20 + tax
Smash Balls available for $2.50 each
Tee times now available after 2 PM, any day.
Smashgolf.net for instructional video and more info.